Seaweed Audio has released an updated version of the Fathom Synth modular software synthesizer for Windows and Mac.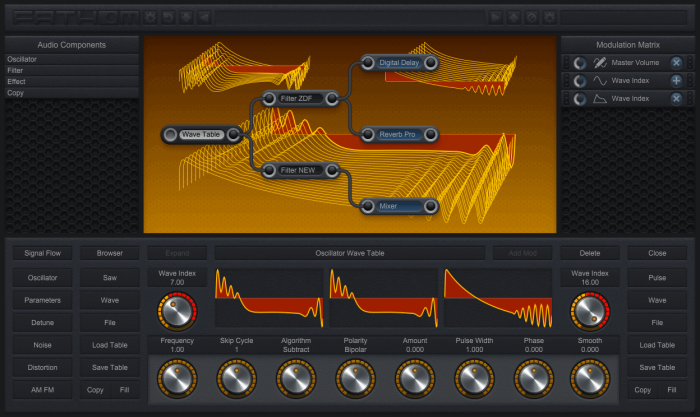 Fathom is a modular software synthesizer plugin that features a wide variety of audio components, advanced modulation, detuning and distortion capabilities, as well as the ability to draw your own waveforms and import single cycle waveforms from outside sources.
Changes in Fathom Synth v2.18
Changed the envelope sin segment so it can oscillate around a curved exponential path instead of only a straight line.
Added "LFO Easy" and "ADSR Easy" modulators.
The LFO Easy and ADSR Easy options are variations of the LFO and ADSR which display a row of control dials directly on the modulation slat. This feature was requested by a lot of users who wanted a direct modulation interface for simple LFO and ADSR modulations, one that is consistent with other soft synth interfaces employed when a full modulation graph is not needed.
The full modulator graph interface can still be accessed by expanding the modulation slat. Function curves, convex and concave, can be changed in the graph for the Easy ADSR modulation without disrupting the easy dials.
Segments can be added to the sustain phase of the Easy ADSR modulation without disrupting the ADSR decay time or sustain level controls.
Changed the modulation matrix so that when the easy control dials are clicked the interface jumps to the panel holding the target dial.
Changed the modulation matrix so that when the mouse moves over modulation slats the target dial is highlighted with mouse over graphics.
Fixed the envelope view so the mouse wheel raises and lowers the correct segment over which the mouse is positioned.
Improved the smoothness of mouse dragging in the envelope view while changing the view size and horizontal position.
Added two more color themes so the user can save and load a total of three color themes and change them quickly with buttons on the top menu bar.
Fixed user color picker so the color is changed after manual color value entry.
Fixed user color picker so the color changes as the mouse is dragged.
Changed the free mono build so the user can access two additional GUI color themes containing the metal and industrial dials.
Fathom Synth Pro (VST/AU) is on sale for $25 USD (regular $85 USD). A free monophonic version is available for download.
More information: Seaweed Audio