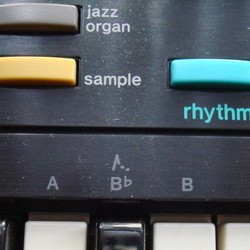 Seaweed Factory has launched the Casio SK-1 Rhythm and Tone Sample Pack, a free collection of samples.
Here is a sample pack of the rhythms and tones of an unmodified Casio SK-1 sampling keyboard. Though the sampling feature of this keyboard is wonderful, the lo-fi drums and tones are also pretty neat.

All samples were produced using a unmodified Casio SK-1 Sampling Keyboard. Normalization was used across multi-samples, but dynamics between notes are preserved. Some samples are labeled to indicate note or drum pattern. All eleven drum patterns are sampled at the default rhythm. The fill pattern for each rhythm is also available. Each of the eight built-in voices has been multi-sampled at octave intervals of the note C. Individual drum hits have been extracted from patterns.
The sample pack is a free download, commercial and non-commercial use allowed.
More information: Seaweed Factory / Casio SK-1 sample pack