Sensel has announced that is is including Bitwig Studio 8-Track 2, the trim and effective digital audio workstation to start producing, performing, and designing sounds like a pro, with every Sensel Morph purchased with a music overlay.
Since its direct to consumer launch in October 2017, the Sensel Morph has become a must-have tool for professional and hobbyist musicians alike. Morph's Pressure Grid detects numerous contact touch points, such as fingers and even drumsticks and its function can instantly be changed using Sensel's revolutionary overlays (available online for $35 USD).
The high-quality silicone overlays "morph" the touchpad into several tools for musicians: a MIDI controller, drum set, piano, video editor and more.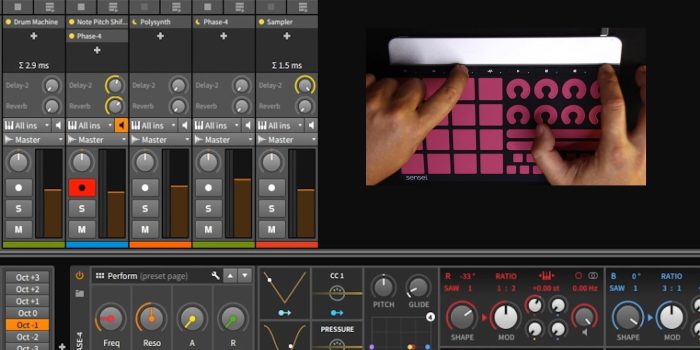 Combining the revolutionary multi-pressure technology of the Sensel Morph with the sonic possibilities of Bitwig Studio provides an incredible creative palette for producers and musicians.
Including a powerful digital audio workstation (DAW) with the Sensel Morph gives musicians the capability to be instantly musical with the Morph. Bitwig Studio 8-Track is based on the latest v2.4 Studio engine. It has native MIDI Polyphonic Expression(MPE), making it a natural choice for the expressive capabilities of the Morph. Additionally, the Morph is deeply integrated with Bitwig Studio with a custom control script, making it incredibly productive out of the box, with intuitive access to the clip-based workflow and expressive instrument control.
"We're really excited to bring this incredible tool to our customers," said Peter Nyboer, Sensel's resident Music Technologist. "We already provide a copy of Arturia Analog Lab Lite to give everyone great sounds, but Bitwig Studio allows people to really create and unlock the expressive possibilities of the Morph's music overlays. We can't wait to hear what people create."

Adds Fredrik Astevall, Bitwig's Business Development Manager, "We're absolutely thrilled to include the Morph as a supported controller and get Bitwig Studio 8-Track into the hands of Morph users. We get a lot of controllers for development, and the Morph has really impressed us with it's versatility and musicality."
Beginning musicians will appreciate the small footprint and versatility of the Morph and the chance to try their hand at a professional music production environment. Seasoned pros will love the introduction to a modern, world-class DAW with incredible composition, modulation, and sound design possibilities. Bitwig customers will find new ways to play with the tightly integrated overlays of the Morph.
Sensel Morph features
10 Unique Overlays – Thanks to the Morph's revolutionary overlays, the device can take various forms including: QWERTY, AZERTY and DVORAK Keyboards, Piano, Drum Pad, Music Production, Video Editing, Gaming and the Innovator's Overlays.
Standalone Morph – Without an overlay, the Morph can be used as a giant multi-touch trackpad, painting surface, or custom interface using Sensel's open source API.
On-the-go Power – The USB rechargeable battery allows creativity anywhere at any time.
Precise Tracking – The Morph's precise position, force, and shape measurements for each contact point allow up to 16 points of contact with individual pressure levels.
High Force Sensitivity – The device can capture a rich force-image with over 20,000 sensors and 32,000 levels of pressure per contact. Because the device senses pressure instead of conductivity, it can detect any object or tool – from a gloved finger to a paint brush.
High Frame Rate – Morph's Pressure Grid technology, high scan rates, and high DPI make it perfect for applications that require precision.
Compatibility – Works with Windows, Mac, Linux, iOS and Android.
Connectivity – With Bluetooth LE, USB, and Serial* connectivity, the Morph can pair with a computer, phone, tablet, and even an Arduino/Raspberry Pi. Enabled through the Developer's Cable, allowing the Morph to connect to any UART-supported circuit board (including Arduino). View the API on Sensel's GitHub.
The Sensel Morph is available starting at $299 USD, including one overlay.
More information: Sensel