Olivier Sens and the Sensomusic team have announced Usine HollyHock 3, a new version of the professional modular audio, video, and DMX software for Windows and Mac.
Version 3 includes many new features, a new and improved GUI design, and graphical performance improvements. Also included is an updated media library that contains many MIDI Drum Grooves, a wide variety of drum samples, and many sound banks for use in the MIDI Sampler. The updated media brings around 500 MB of new additional sound material to start off using with Usine.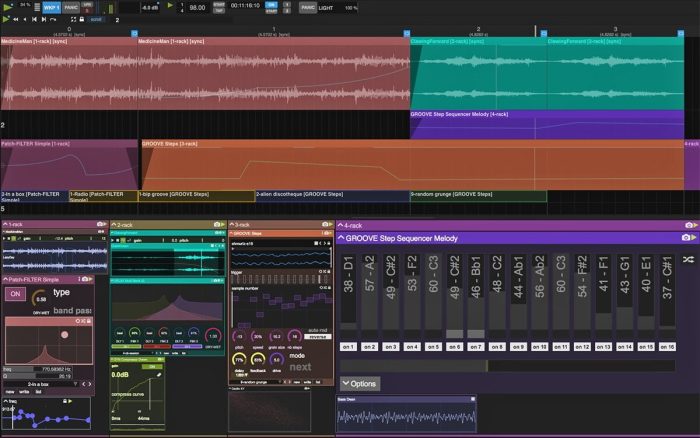 The sequencing Grid has been updated and redesigned for clarity and ease to synchronize with the Piano Roll and Sampler. In addition to drag-and-drop grid placement, now you can also place Patches and Presets within the Grid! The addition of Preset placement allows for a quick layout of movement changes that improves the usability and ease of creating performances. These improvements all provide a more simplified and responsive Grid use that greatly enhances workflow sequencing.

Demonstrations workspaces are also included which illustrate the use of several features of Usine. Such as a Grid, IB Mode, and DMX as well as Video, Drums, and new Synthesis Workspaces. Updated manuals and many English and French Video Tutorials are also now available online to help the user explore and learn these new features.

Among the additional library inclusions, all Factory Library Patches have been redesigned and updated to adhere to the new Usine HollyHock 3 GUI. New patches such as Granular, Groove Machines, and Synthesis are just a few to name within the library. Several new Synthesis patches are available and also a Classic Moog inspired Synthesis Demo Workspace called Poly Mini Mogg, which provides a great example of how Usine can be used as a modular audio tool. These Moog inspired patches are also found in the Browser and host several new effects, as well as an available Moog-inspired filter within the modules section.

In addition to the demonstrations and patches, the module library has been updated and includes 150 new modules. With the addition of these new modules, the library browser now has a re-organized layout including around 500 total modules available to the user. They're also the quicklinks, which boast the ability to wireless output a single signal that then can be distributed between many inputs. These new patch editing methods, modules, and optimizations greatly improve the ease of creation and clarify the understanding of how patches are laid out.

An example of one of the newly created audio tools is the Timeline. The Timeline is a small audio sequencer panel where you can drag-and-drop multiple samples to be triggered within the selected sequence rate. Also included are new audio filters such as the Moog inspired filter, newly developed and organized Math modules, Vocoder, and the new Audio Analysis Kick Detector.

We have also added a convolver tool for sound and sample design (merging of 2 samples), and a new Warp engine, which helps synchronize loops to the user's project.

For teachers, the full MusineKit 2 patches are also included within the Usine library. This can be a good start for educational purposes as well as for use in other personal creations. (MusineKit is our free product which was recognized last year by the French National Education Ministry).

Usine now is a complete external communications tool, which provides audio peak detection as well as external sensor and data interface integration. Available implementations include items such as the Leap, the Wiimote, the wireless Hot Hand MIDI controller, and collaboration with Interface-Z to provide a new collection of patches that integrate directly with sensor hardware.

For the artist who wants to include video layers to their performances, we have created a modular video engine with 40 newly included modules and filters. Several playback methods are also available which include the Images Player, which creates picture-based slideshows, the Video Flow Player that boasts IP streaming, as well as the previously available Video Detection module which now has been updated to include 32 detection zones. This update of the Video Detection module improves the usability for installation and dance performance based applications where demand for accuracy is required.

DMX and Art-net users have not been forgotten either in this update. All light management engines have been improved upon as well.

Of course, all of the previous functions that have made Usine a success in the professional performance world are all available to the user. These include Multi-Surround with up to 64 native inputs and outputs, LAN patch sharing for collaborative and educational performance and demonstration, Direct-to-Disk recording, and Midi Timecode integration. Among other previous functions the update of easily created Automation Curves, Workspace Organization playlists, and many others are either updated or still available for use within Usine HollyHock 3.
More information: Sensomusic