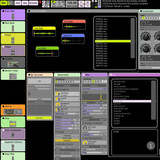 Sensomusic has released version 5.50.40 Usine and Easine, the universal audio software especially designed for live or studio utilization.
Changes in Usine/Easine v5.50.40
More efficient panic button.
New dashboard design.
[sampler] the gain inlet is now smoothed to avoid audio clicks (on fast modifications).
[conductor] the selected track is no longer modified during a conductor recall.
Fixed: [pianoroll] various display bugs.
Fixed: [pianoroll] some copy/cut bugs solved.
Fixed: [sampler] an artifact can occur the first time a sound is played.
Fixed: [Easine VST] is 2xin 2xout.
Sensomusic has also announced that the add-ons for Usine are now available to download at no cost.
After few month of suspended downloads we have good news for all Usine free users: Get more than 250 Add-ons and ready-made patches for free.
More information: Sensomusic