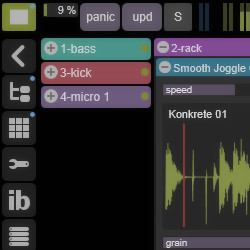 Sensomusic has released version 11 of its Usine Hollyhock music software for Windows and Mac.
Usine Hollyhock is a unique piece of software which introduces several revolutionary concepts.
Usine is dedicated to live music and real-time installations. It's not a traditional Digital Audio Workstation so, it has a very specific approach.
Also it's a modular environment, which means that, even if you can find many ready to use examples, the main goal is to create and customize your live set to fit it exactly to your needs.
Changes in Usine Hollyhock v11
The listbox module is now opened centered on last selected.
The internal Message module works now in sub patch.
Flag MIDI input ports with MIDI LEARN on or off fixed.
Most of Audio sound card last issues fixed.
Wires from script outlets are pasted correctly now in sub patch.
In the panner module, all the speaker-parameters are now saved.
Fix a XY Pad Preset Manager bug.
Fix the Matrix module Hiding Header causes enable icon to be hidden under top right cell.
Fix the MIDI control of top level patch on/off.
Fix the bad routing of signal in matrix midi 8×8.
Fix the issues about the creation of stuck Midi notes.
Usine Hollyhock is available for purchase for 119 EUR.
More information: Sensomusic