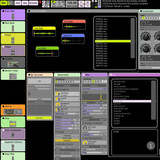 Sensomusic has released version 5.25f of Usine, a universal audio software especially designed for live or studio utilization.
This version contains hundreds of improvements and new features. Usine is more stable, powerful, light and ergonomic than ever.
Changes in Usine v5.25f
Improvements

Aiff sound files compatible.
Zero crossing is active now in the sampler during the recording process, if the option is activated.
Better audio quality and synchro in the Grain Generator module.
New on/off parameter in the send bus module.
Midi-learn is now allowed on all the buttons of the navigation bar in IB mode.
Better size adjustment when moving/resizing controls.
New browser/Add-ons design.
New protect mode as hidden string.
Better Audio to Midi (pitch tracker) sub-patch.
New Active Line Number module, to get the selected line in the grid.
New navigation bar design (IB mode).
New Midi Expand voices Midi Tool script.
New Math/Bit Operators OR, AND, XOR, NOT, SHL, SHR available as scripts.
New improved Random Law Generator sub-patch.
New options in the global IB "maximize if ON (Grid & IB)" and "maximize if ON (IB only)".
Usine graphic engine is globally twice faster.
Scripts take less memory.
Audio protection in the Filter module to prevent instability.
New target parameter in the mouse module.
New SET_LAYOUT instruction in the IML.
New FaderColor Module.
In the Sequenced Pianoroll, we can now scroll the cursor position.
Array's input in the XPpad module.
The internal help form has a Minimize button.
Set array parameter in the random module.
Inverse Y axis option in the layout of XYPad.
Various design improvements.
Array's input in the Draw Objects module.
Up to 128 objects in the Draw Objects module.
New layout option to draw connexions between objects in the Draw Objects module.
Parameter type ptPointerBitMap, ptPointer, ptLed added in scripts.
Array's parameters are saved automatically in scripts except if SetDontNeedSave is called.
New 1-X and X+1 math modules.
New window parameter in the grain sampler module.
The Delay module sounds better.
New Compile&Init and Compile&Reload menus for scripts.
Few new IML instructions: PAUSE, CREATE_UID, GET_CAPTION.
VST Randomizor template added.
DrawTrajectory user module has been updated (thanks to Martin Fleurent).

Fixed bugs

The Drag & Drop doesn't work in the sequencer.
Various Drag & Drop issues in grid mode.
Several important bugs in the VSTRandomizor script.
Hard bug when updating VST parameter's list.
The SetVariableString doesn't work properly in scripts.
Various bugs in the random data module.
Various glitches issues in the VST version.
Problems storing Midi-learn's after copy/past of a sub-patch.
Problems with negative numbers in the RandomData module.
The 'edit layout' function is sometime tricky…
Various graphic refresh problems when the ASIO driver is down.
Small refresh issue in the preset panel on recall.
Sometime Midi/Key learns aren't properly stored in the patch.
Often, the Midi setup is lost…
The Midi Sequencer diplicates Midi Events in bar mode.
Various conductor issues with copy/past bank.
Refresh problem when a VST window is reduced as a thumbnail.

Comments

The scale parameter of Faders/Knobs is no longer in the layout settings but is now in the module settings (as it use to be in the V4).
The color selector is now opened with a double click instead of single click.
Midi/key learns can be lost from previous Usine versions.
Usine is available to purchase for Windows PC for 120 EUR (educational license 60 EUR, upgrade 40 EUR). A free version of Usine is available to download from the Sensomusic website.
More information: Sensomusic