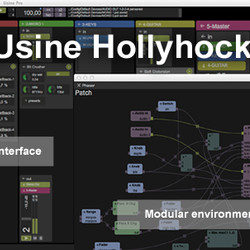 Sensomusic has released Update 6 of Usine Hollyhock, a software application dedicated to live music and real-time installations.
It's not a traditional Digital Audio Workstation so, it has a very specific approach. Also it's a modular environment, which means that, even if you can find many ready to use examples, the main goal is to create and customize your live set to fit it exactly to your needs.

Usine is different but finally you'll realize that it is one of the most powerful audio software you can find.
Changes in Usine Hollyhock v1.02.010
New multi-channel Reverb module.
New List Manager module.
New File Lister module.
Scan for plug-ins (AU and VST) faster and more efficient.
32bits floating point Multi-Channel Recording in the Direct to disk panel and the Sample player recorder.
OSC (open sound control) optimization.
Filter (LP, HP, BC, NOTCH) optimization.
A vertical scrollbar in the Grid panel allows no an unlimited number of lines.
Addons automatically downloaded and available in the Browser Panel.
Various GUI Grid panel improvements.
Better zoom command in the Sample player.
New Current Workspace Settings module.
Devices panel reset more efficients.
Most of reported issues fixed.
Check the release notes for details.
Usine Hollyhock is available to purchase for the launch price of 159 EUR (20% off regular).
More information: Sensomusic