Serato has released a massive update to its Serato Studio beat making software. Version 1.4.4 now offers a feature-limited edition that is completely free to use, save, and export projects.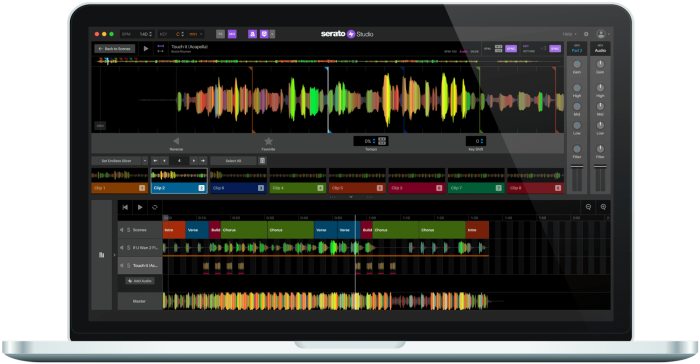 "Serato is really excited to get this latest update out, especially to those who are starting out in their beat-making journey," says Nick Maclaren, Chief Strategy Officer at Serato.

"We want everyone to be able to make music and share their tracks. With this new version, anyone can jump on and stay busy making music for as long as they want to, without any time constraints."
The release also brings a highly-anticipated new free feature, Auto Chord Mode. This allows you to instantly generate chords using only one note, without the need for any music theory knowledge.
The free edition of Serato Studio includes most of the functionality in Studio's full edition. Though is limited to four Decks, four Scenes, one Audio Track, MP3-only export, and Automation is disabled.
"We wanted to offer the best tool for people to start making beats and DJ edits," says Maclaren. "This version allows you to make a full track using Studio and get creative with features like FX, sampling, instruments, or building layers in your track while reserving advanced features for the full edition, like Automation, stem exporting, and access to additional sound packs. You can also use Audio Tracks to load a full song into Studio which makes it the perfect free software for making DJ edits. Just load up an acapella or full track to chop up, make a mashup, or create a quick intro edit so it's ready for your DJ sets," he adds.
There is still the option to take a free 14-day trial using the full edition with all the features in Serato Studio.
Serato Studio 1.4.4 features
Free edition – The all-new free edition allows you to use, save and export your tracks. This includes four Decks, four Scenes, one Audio Track, mp3-only export, and no Automation. All other features in the full edition are available for free.
Auto Chord Mode – Play chords in the key of your project by pressing any note. Adjust the number of notes from 2 – 7 and use the 'Feel' knob to create a live instrument sound.
Song View Improvements – Including the ability to duplicate your Audio Tracks, a new 'Back to Start' button in the Song View, and new horizontal resizing in the Song View sidebar.
Quantized Cue Points – Quantize Mode will now snap your Cue Points to the closest half-beat.
just like Serato DJ.
Serato DJ Library Update – For all the producer-DJs, your DJ tab columns will now sync up with how they appear in Serato DJ.
The full version of Serato Studio is available for $199 USD or $9.99 USD/month.
More information: Serato