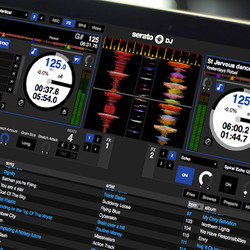 Serato has released version 1.5 of its Serato DJ mixing software for Windows and Mac.
Serato DJ 1.5 is now available to download on serato.com.

This release supports a range of brand new hardware from industry leaders Pioneer and Rane, that work plug-and-play with Serato DJ, which now inherits our world class NoiseMap™ DVS technology.

As well as this, Serato DJ 1.5 also brings support for new controllers and existing Pioneer CDJ hardware.
Changes in Serato DJ v1.5
Added Serato DJ Hardware Support

Rane Sixty-Four
Pioneer DJM-900SRT
Pioneer DDJ-SR
Numark NS7 II

Added Serato DJ Accessory Support

Pioneer DDJ-SP1
Pioneer CDJ-2000nexus
Pioneer CDJ-2000
Novation Dicer

New Software Features

For Vinyl & CDJs

Serato NoiseMap™ Digital Vinyl System Added.
Absolute, Relative and Internal modes added.
CD/Vinyl Mode Setup tab including Vinyl Control, Vinyl Start Offset and Needle Dropping Options.
Calibration Scope Views for CD/Vinyl calibration.
Deck Setup configuration area for Pioneer DJM-900SRT.
Temp Cue functionality in DVS mode sets cue when platter is stopped and jumps to cue when playing.
Emergency Internal Mode; When you reach the end of the record using either REL or ABS modes, Serato DJ automatically switches to INT mode.
Safety Internal Mode; Control + Click the INT Mode button to switch to Safety Internal mode which will reset the tempo to zero, enable forward playback and disable sync.
USB insert allows you to use the DJ-FX as post fader effects for the Rane Sixty-Four.

For both Vinyl & CDJs and DJ Controllers

Virtual deck headers have been standardized across Horizontal and Vertical display modes in both 2 Deck and 4 Deck modes.
Introduced scrollable cue and loop containers.
Sync Off and Snap to Beatgrid for Simple Sync options.
Played Track Color blue/grey options.
The cue point trigger button and cue point color button on the GUI have been merged. Control + Click the cue point trigger button to modify the cue point color. The cue point numbers have also been removed.
Audio buffer size in DJ matches the value set in the ASIO control panel (for ASIO devices only).

Bug Fixes

Removed monitor (ch1/ch2) crossfader start on Numark NS7.
Fixed touch strip on Numark NS7 so it can swipe to the first beat.
Fixed fader start initialization problem on Numark NS7.
Fixed initilization on Vestax VCI-380.
Cleaned up vinyl button functions on Vestax VCI-400.
Fix Twitch Channel/Master Level LED.
Fixed stored loops lighting on Novation TWITCH.
Fix Vestax VCI-300 LED's so they show channel level with PFL is enabled.

Other Changes

Mapped Loop Shift L/R to Shift Switch on Numark Mixdeck.
Added Loop Roll to the Numark NS6 & Numark NS7.
Mapped Pitch Range on the Vestax VCI-400.
Added Shift + Back button on the Numark MixDeck to do Library Navigation Forward.
Serato DJ is available to purchase for $129 USD. The version 1.5 update is now available to download.
More information: Serato