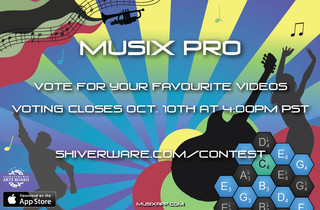 Shiverware has launched a video contest for its iPad / iPhone musical instrument Musix Pro.
The contest winner will have a chance to win a one of a kind hand made Rainboard, an iPad, an iPad Mini, and one of several t-shirts. In order to qualify all that you need to do is submit a video 30 seconds or longer that shows you using Musix Pro.

You can be playing it by yourself or in a band. Submissions can be of any genre. The doors are wide open for everything including original pieces, covers, folk, classical, electronic, etc.

Please check out and vote on existing contest videos and be sure to post your own.

This contest was made possible through the support of the Saskatchewan Arts Board and the Government of Saskatchewan, through the Ministry of Parks, Recreation, and Sport.
The contest is open until October 1st and voting closes October 10th, 2013. Any comments or questions can be directed to contest@shiverware.com
More information: Shiverware