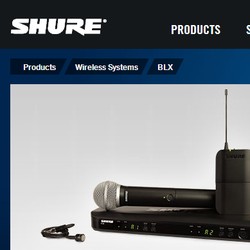 Shure has announced that its BLX Wireless Systems are now shipping.
Offering world-class design and rugged construction, the easy-to-use BLX Wireless Systems couple high-quality sound with simple setup and an intuitive interface. The BLX series is ready to take from box to stage, creating an optimal solution for musicians, singers, and presenters who want the best in professional wireless products at an affordable price.

Within the variety of receiver options available, the new BLX Wireless Systems include a half-rack size for installed applications. The BLX series makes it easier than ever to unplug from wired microphones, achieve uncompromised high quality sound, and enjoy freedom of movement on stage. When users are working in complex environments, RF interference can be avoided with Shure's one-touch QuickScan frequency scanning feature, which quickly locates the best open frequency channel.

With a 300-foot performance range and up to 14 hours of battery life, performers and engineers can rely on the system for extended use. Powered by two AA batteries, systems are available in a wide offering of bodypack and handheld configurations with multiple handheld, lavalier, instrument, and headset microphone choices.

"BLX is about making great performance available to everyone. BLX audio is engineered to match the tailored, refined sound of Shure's high-end analog wireless systems, and it includes significant improvements in wireless stability," said Erik Vaveris, Category Director for Wireless Products at Shure. "BLX also offers a choice in receiver form factors. The lightweight and ultra-portable BLX4 and BLX88 are perfect for musicians on-the-go. The BLX4R uses Shure's durable half-rack chassis with removable antennas and includes everything you need to install it in an equipment rack."
The BLX Wireless systems are available through authorized Shure resellers in numerous configurations with a wide range of Shure microphone options. Pricing begins at $374 MSRP/$299 MAP.
More information: Shure / BLX Wireless Systems