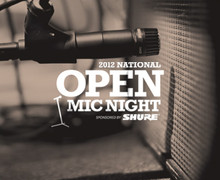 In celebration of the Company's 87th Anniversary on April 25, Shure Incorporated announced its inaugural National Open Mic Night, a week-long observance that will unite and encourage singers, musicians, and spoken word artists to take the mic and perform at venues across the United States from Sunday, April 22, to Saturday, April 28.
A total of 23 bars, restaurants, and coffee shops, from New York City to Chicago to Los Angeles, have confirmed their participation.
"We hope this event becomes an annual occurrence that serves as a great way for us to commemorate our Company's anniversary," said Terri Hartman, Director of Marketing Communications for Shure Americas. "Our goal is to bring together artists and venues in a cohesive way, and to celebrate their talent."

Each participating venue will receive a "mic locker," which includes SM58 and SM57 microphones to be used for these events, and a marketing/promotional "tool kit." Shure also will work closely with the venues to promote their events.
More information: Shure