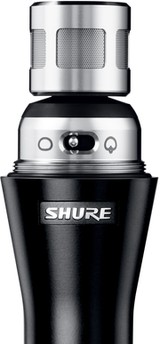 Shure has introduced the KSM9HS, a new variant of its premium KSM9 Vocal Condenser microphone, with switchable hypercardioid and subcardioid polar patterns.
"The KSM9HS gives sound engineers more options to adapt to different stage conditions or the microphone techniques of a particular performer," says Chad Wiggins, Category Director, Wired Products at Shure. "The hypercardioid pattern setting provides tremendous rejection of off-axis sound in high-SPL situations, which isolates the voice from monitor bleed even better than a supercardioid."

In contrast, the KSM9HS' subcardioid pattern is beneficial where bleed and volume are not an issue. "The subcardioid pattern has a wider pickup angle than a standard cardioid, which is useful on quieter stages," says Wiggins. "In those situations, stage ambience can enhance the sonic palette."

The KSM9HS is available in wired and wireless versions. The original KSM9, which debuted in 2005, will continue to be available with switchable cardioid and supercardioid polar patterns. Both the KSM9 and KSM9HS feature a groundbreaking dual-diaphragm design that delivers the transparency of a studio microphone, and minimizes proximity effect for more consistent sound quality at different working distances.

According to Jay Rigby, Front of House engineer for Cage the Elephant, "Due to the high overall stage volume, our traditional vocal microphone [a KSM9] was picking up too much stage bleed, thus overwhelming the IEM mixes. As soon as we swapped out the KSM9 for the KSM9HS, everyone on stage noticed the difference immediately. With the improved tight pickup pattern we were able to get the vocal levels needed without all of the stage bleed coming down the mic. Problem solved."

Colin Cargile, Front of House engineer for Drive-By Truckers, says, "I really liked the way the KSM9 sounded and wanted to use it on our two main vocalists, Patterson Hood and Mike Cooley. But our stage was just too loud. Shure gave me a couple of KSM9HS to try out and everyone immediately loved the warmth and body as well as the all-around consistency and durability of the mics. It is also a blessing to be able to switch the capsule pattern with ease."
The KSM9HS dual-diaphragm vocal condenser microphone is priced MSRP $874 USD.