Acclaimed as the world's most popular microphone, the Shure SM58 Cardioid Dynamic Microphone has been used faithfully by the world's most influential musicians since 1966.
To celebrate and honor the strong connection of the SM58 to legendary musical artists, Shure has partnered with both Paul McCartney and The Who to make available at auction a one-time production of 600 serialized graphic painted SM58s.
All of the proceeds generated from the campaign will go directly toward foundations for which both artists are deeply vested, including Paul McCartney's Meat Free Monday and The Who's Teen Cancer America.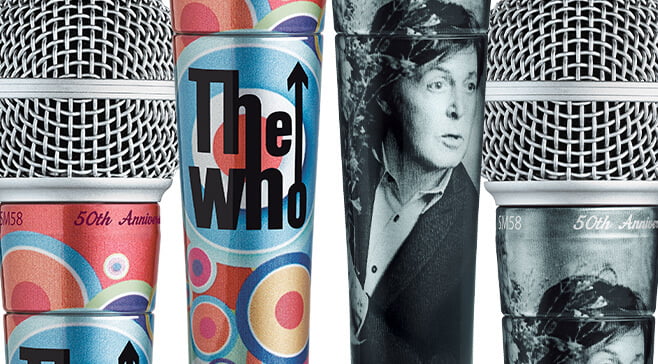 The serialized microphones will come with graphics specific to each artist. The Paul McCartney Special Edition 50th Anniversary SM58 will feature cover art from the album Kisses on the Bottom, photographed by Mary McCartney, and The Who Special Edition will feature original artwork from graphic designer Richard Evans, who has been designing The Who's album covers and promotional visuals since 1976.

Each artist will have 300 SM58 microphones produced for the auction, with serial numbers 11-300 listed for sale at a fixed price. Additionally, Shure will be auctioning off serial numbers 1-10, which feature hand-signed autographs on the microphone handles. The limited edition microphones will be available at auction through eBay for Charity, with 100% of proceeds going directly to each artist's chosen charity. The SM58 50th Anniversary Artist Edition serves as a commemorative purchase and donation, honoring the decades of world-renowned music these artists have produced and their history of charitable activities.

"Paul McCartney and The Who have created some of the most influential music in our lifetimes, and given their impact on the world, we thought it only appropriate to team up with them to create a special 50th Anniversary edition of the SM58 microphone, which has been used to share their voices with fans of all ages for decades," said Mark Brunner, vice president of corporate and government relations at Shure Incorporated. "We also knew that Paul, Roger, and Pete are extremely active in charitable giving, having been major benefactors to, and creators of, charities for quite some time. As such, we're particularly proud to support the musicians' charities of choice by donating 100 percent of the proceeds to each."

Meat Free Monday was launched by Paul, Mary, and Stella McCartney in 2009 with the aim of raising awareness of the damaging environmental impact of livestock production. The campaign encourages people to help slow climate change, preserve precious natural resources and improve their health by having at least one meat free day each week. Teen Cancer America was founded in 2012 by Roger Daltrey and Pete Townshend, who have been working charitably for teens with cancer in the UK for over 20 years. The goal of the foundation is to help hospitals and healthcare professionals bridge the gap between pediatric and adult oncology care as well as educate and support hospitals and outpatient facilities in the development of specialized units for teens.

"The Shure SM58 has carried my voice to millions around the world over many years, and it still carries millions of voices to audiences every day," said Paul McCartney. "I am pleased to join with Shure in offering this special edition 50th Anniversary SM58 in support of a charity that is close to the heart of my family – here's to many more years for both of us!"

"As we take a moment to celebrate the 50th anniversary of the SM58, it's important to look back on all that we have accomplished as well as the important work that lies ahead – made possible by the power of music and of giving," said Roger Daltrey. "Shure and the SM58 have played a big part in my career, and we have joined forces on many charitable activities in support of teen cancer treatment thus far. It feels natural that we are working together on this auction in commemoration of this important milestone."
More information: Shure