Avid has announced the release of version 8.3 of its Sibelius music notation software, offering many enhancements and improvements that will help composers, arrangers, publishers, and students write music more easily and creatively.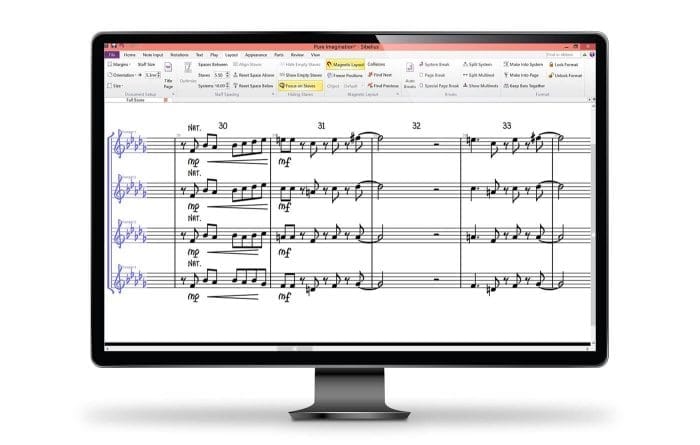 As part of a series of regular updates provided through Avid All Access plans, Sibelius 8.3 continues the tradition of delivering top user requests, demonstrating Avid's commitment to listening to the needs of its customers—a key tenet of Avid Everywhere™.

"Sibelius 8.3 brings over 60 improvements to the world's best-selling music notation software," said Dana Ruzicka, vice president and chief product officer at Avid. "This update further enhances the workflows of our customers and builds on new capabilities introduced in recent Sibelius releases."

Sibelius offers sophisticated yet easy-to-use tools that are proven and trusted by composers, arrangers, publishers, educators, and students alike.
Changes in Sibelius 8.3
Color individual notes — It's now possible to color each individual note in any chord, and the Sibelius ManuScript scripting language has been updated to include this new functionality.
Clean up rests — Based on the Time Signature, rests will cleanly tidy up as notes and chords are moved using the new sliding features introduced in Sibelius 8.2.
Work more easily with gestures on a Mac — Improved gesture capabilities make zooming and scrolling scores easier than ever on Apple MacBook and MacBook Pro trackpads, as well as Magic Trackpads.
A problem where Sibelius 8.2.0 could crash on quit after first launch on a clean system has been fixed.
Start and end repeat barlines would sometimes appear too thick when written together. These are now lined up correctly as before.
Some users reported a problem where note input would stop working when switching scores. This has been fixed.
The Sibelius License Server is now supported on Mac OS 10.11 El Capitan.
When using Reset Design in the score, it no longer affects accidentals in the part. This is a change in behavior from Sibelius 8.2 where resetting the design on a note or larger selection would reset the accidental in the parts too.
In addition, Avid has added two new Sibelius bundles, offering composers even greater value by adding powerful capabilities to their notation workflows at a reduced price.
The Sibelius + PhotoScore & NotateMe Ultimate Bundle enables customers to scan sheet music into Sibelius and handwrite music and notes using a pen and tablet. The Sibelius + AudioScore Ultimate Bundle enables customers to turn recorded audio or live mic performances into transcribed music notation.
Whether customers choose to own, upgrade, or subscribe to Sibelius, their purchase comes with an Avid All Access plan, providing access to regular feature releases, stability improvements, and expert help for the duration of their plan or subscription.