RJ Studios has announced the release of SideMinder ZL, a Zero Latency edition of the SideMinder dynamic stereo width maximizer plugins.
SideMinder ZL can be used to enhance and control the stereo width of mixes while ensuring mono compatibility.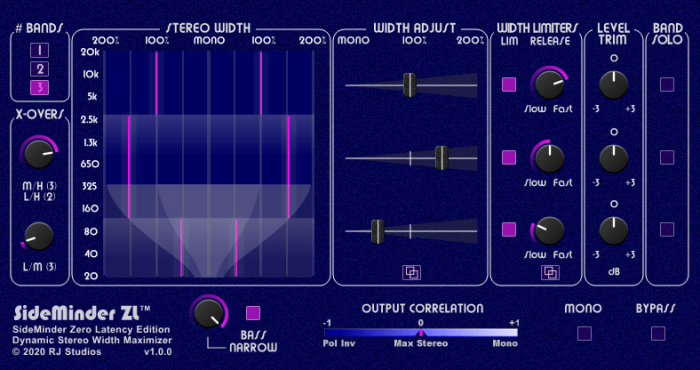 The plugin works dynamically to increase (or decrease) the stereo width of a track, bus and/or master mix while automatically preventing over-widening and negative correlation that can cause signal loss when mixed or played in mono.
SideMinder ZL includes up to 3 bands of stereo Width Enhancement ranging from mono up to 200% width increase and a Bass Narrow control that reduces the stereo width below the selected cutoff frequency (especially important when mastering for vinyl).
Like the studio versions of SideMinder the most important and unique feature of SideMinder ZL are the Stereo Width Limiters. These limiters "listen to" the stereo signal and precisely and rapidly turn down the stereo width when the signal approaches negative correlation. Additional stages of filtering control the recovery speed of the width limiting action which is adjustable via the Release controls. An output correlation meter displays the output signal correlation allowing before/after effects of the limiters to be observed while the Bypass button can be engaged to quickly audition SideMinder ZL's action.
SideMinder ZL is available in VST/VST3, AU and AAX plugin formats, priced $34.95 USD.
More information: RJ Studios