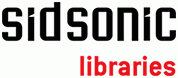 Sidsonic Libraries has announced the X-Mas Special: Advent Calendar, a promotion featuring free sample sets, loops, etc.
Looking for an inspired Christmas? The sidsonic libraries advent calender will give you festive cheer! From St Nicholas day (Dec. 6) until Christmas (Dec. 24), every day a new door can be opened.

Stock up on fine sampling material and kick Santa from the roof with some fresh carols! Alternatively, send the tunes you made with our sounds to us!

You'll find a dropbox in the right column in a few days!

The musician sending the tune most fancied by our little and subjective brains will get a nice reward!
A free Circus Circuit Bending Library!!!