Signo SFX-Instruments has announced the release of Burning Y Sky and Neurons-1, two new Energy 360 series sound libraries for Native Instruments Kontakt and Logic EXS24.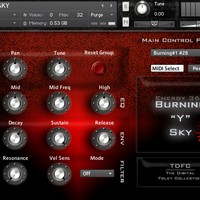 Burning Y Sky can be defined as a "burning objects passing by" instrument.
Burning Y Sky can be used for a scene in a sci-fi movie or a simple movement of a graphic object. It uses parameter "Y" of the surround panner of Kontakt to allow the user the passage of the chosen sounds, front-back or back-front to follow the movement, slow or fast, of an object in the space. Burning Y Sky can also allow the free movement in a surround environment by assigning the surround panner automation knobs to a joy stick.
Burning Y Sky features
61 samples of original sound effects (whooshes & pass by).
Surround panner front-rear / rear-front with the modulation wheel (Kontakt 4+).
Control panels including independent volume, pan, EQ, filter and envelope for each key of the keyboard controller (Kontakt 4+).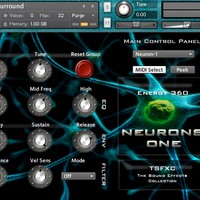 Neurons-1 is a unique sound effects collection developed for sound designers.
It contains abstract sounds that could be associated with visual scenes like: the activity of neuronal connections or scenes including strange sensations and other weird «buzz», radiant energy, magnetic field, etc. This set contains 62 "Neurons SFX-Instruments". There are 61 individual instruments and 1 "All Neurons SFX-Instruments" including the 61 original samples distributed from C1 to C6 keys.

When activating the "Select Midi" button, each key strike will bring up its own "Main Control" and keep it in memory. You will have the opportunity to change the sound settings for one key (sound) without affecting other sounds. Now blend it! Playing many keys will offer you the possibility of many surprising soundscapes.
Neurons-1 features
61 samples of original sound effects.
61 single Neuron Surround SFX-Instruments.
1 "All Neurons-1 Surround SFX-Instrument".
Independent control panels with vol, pan, EQ, filter and env. for each key of the keyboard controller (Kontakt 4+).
The sound libraries are available to purchase for $19.95 CAD each. Kontakt 3 or later full version is required. The Surround panner preset needs Kontakt 4 or later.
More information: Signo SFX-Instruments