Plugin Boutique has launched another exclusive sale, offering 50% off on the BUTE Limiter effect plugin by Signum Audio.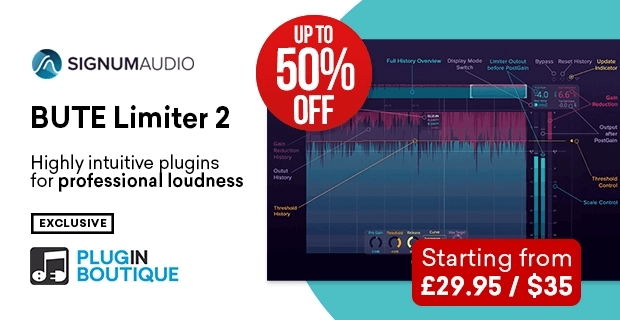 If you're looking for high fidelity pro-audio limiting, look no further. Our smooth and transparent True Peak Brickwall Limiter delivers superior sound quality for use on your final master or individual tracks during mixing.
BUTE Limiter features
A minimalistic user-interface making it incredibly easy to use.
Collapsable window for numerical data-only view so you can save valuable screen space.
True peak, ultra transparent limiting, with a novel approach to brick wall limiting making it "overshoot proof".
Automatic reading re-metering to reflect adjustments.
5 Different release curves to choose from, with automatic release time calculation depending on content.
In-Depth history and readings for True Peak, Threshold and Gain Reduction..
Useful Pre-Gain to push or reduce the incoming signal's volume.
Compatible with Mac (10.9 or higher), Windows (8.1 or higher) and 64-bit VST / AU / AAX. Pro Tools 12.5 or higher.
Included with the BUTE Loudness Suite.
BUTE Limiter is on sale in Stereo and Surround editions, starting at £29.95 GBP / $35 USD.
The offer expires October 5th, 2020.
More information: Signum Audio