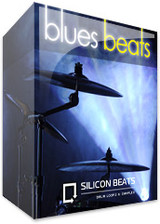 Silicon Beats has released Blues Beats, a collection of blues drum loops.
Blues Beats V1 offers a 'hard rockin' selection of live blues drum loops with fills and grooves galore. We used a vintage Ludwig drum kit with custom tuning to create that authentic blues-rock tone. We recorded the session in a small live room with tight, dry acoustics and added a healthy sprinkling of analogue compression to give the mix that fat tube warmth.
Blues Beats features
1GB content, 250 Blues drum loops at 24 bit/stereo.
Includes a waltz in 3/4 time as well as other classic blues rhythms. From slow and grooving side stick beats to super fast double time patterns, accents and fills.
Tempos range from 84 to 168 bpm.
Includes 35 single hits of the Ludwig drum kit.
Blues Beats is available to purchase as an instant download for $79.95 USD.
More information: Silicon Beats