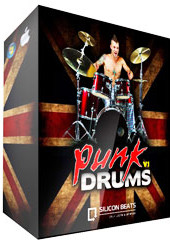 Silicon Beats has released Punk Drums V1, a collection of punk drum loops.
Fast and hard! That's how you want your punk drum loops. Sweat dripping, blood pumping and ready to explode with pure punk adrenaline. Punk Drum Loops V1 is your essential song writing companion for punk and punk metal. We loaded up on the Sex pistols, Dropkick Murphys and Dead Kennedys then tuned a Yamaha Stage Custom kit to 'ear splitting' and laid down some killer drum tracks.

Why bother micing up that kit when we've already done the hard work for you. During the mixing of these intense drum loops we laid down lots of guitar and bass tracks so that we could test out the tone of the kit when mixed with heavy guitars and bass. You'll hear from the demo above that we nailed it.

We've covered the essential drum grooves your going to need in 3 different tempos. Starting at 128 bpm for your pop style of punk and then moving up to 150 bpm and finally 170 bpm with plenty of double time and half time grooves for a much heavier punk vibe.
The Punk Drums sample pack is available to purchase for $69.95 USD.
More information: Silicon Beats