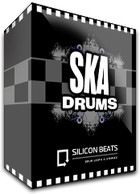 Silicon Beats has released Ska Drums V1, a collection of ska drum loops and samples.
Ska Drums V1 offers a superb selection of expertly performed live ska drum loops with tonnes of variations and fills. We've got side stick grooves, up tempo rhythms and lots of snare fills.

Ska Drums V1 is our second drum loop pack to feature the spectacular vintage Ludwig Ocean Pearl drum kit with a Supraphonic snare drum. This kit was made in 1963 and offers a richness of tone that can only be found in classic vintage drums.

We fed the kick and snare mic's through the Focusrite Liquid Channel mic pre-amp and chose our sound proofed mixing room as a live room in order to achieve a dry 'close-mic 'd' sound that emulates classic ska recordings of the 1970's.
Ska Drums V1 features
153 Loops, tempo: 110 to 142 Bpm.
Tight, dry sound gives you all the space you need to drop a thick plate reverb on those snare fills for that cool ska vibe.
31 Kit Samples, the kit includes a 12″ tom, 13″ tom, 14″ supraphonic snare, 16″ floor tom, 22″ Kick, 18″ Vintage Sabian ride, 16″ Zildjian Avedis Medium Thin Crash, 15″ Zildjian Vintage Crash, 14″ Zildjian Vintage New-Beat hats.
Total Size: 483 MB.
Ska Drums V1 is available to purchase as an instant download for $39.95 USD.
More information: Silicon Beats