Simmons has announced the release of the new Stryke6 drum controller.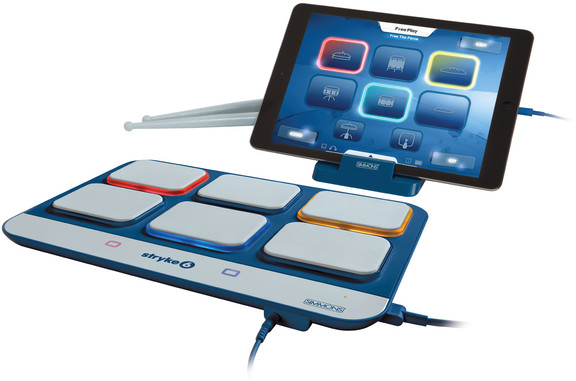 The new Stryke6 is the first ever iPad® controller that delivers a full drum kit playing experience without the kit. Combining Simmons' expertise in electronic drum kits with their unrivaled ergonomic design, the Stryke6 is the only product of its kind that works in concert with your iPad to deliver a real tactile playing experience in a compact, tabletop design.

Equipped with six velocity-sensitive pads plus two foot pedals for kick and hi-hat control, the laptop-sized Stryke6 is perfect for on-the-go playing, portable practice, and other times when a full kit is not a viable option.

Using the free Simmons Stryke Drums app, the Stryke6 easily connects to an iPad for an immediate, out of the box playing experience, including a wide range of sounds. Or connect via USB to any computer to trigger a variety of DAW applications and sample programs, including Garage Band, EZ Drummer, Logic, Ableton Live, and more.

For drummers and percussionists, Stryke6 is an ideal portable setup for small acoustic gigs, or as a compact practice kit for small spaces or mobile music making. For small project studios and songwriting setups, it makes a great tactile instrument for tracking drums into a DAW or sequencing program.
Stryke6 features
Versatile, first-ever iPad-based drum controller.
Can also be used with any USB/MIDI computer.
Ultra-small footprint with 6 velocity-sensitive drum pads.
Access to a wide range of sounds.
Kick and hi-hat pedals provide a real drum playing experience.
Works with most MIDI applications.
Free and fun, downloadable Stryke Drums iPad app (from the Apple App Store).
Learn to play drums in an engaging, interactive environment using app-based tutorials and the color-coded pads.
Includes drum sticks and connections for Lighting and 30pin iPads and USB.
Stryke6 is available for purchase for $129.99 USD.