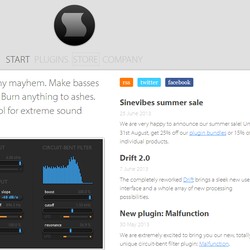 Sinevibes has announced the launch of its summer AudioUnit plugin sale, offering discounts on its plugins and bundles for a limited time.
Sinevibes Summer Sale
Individual products can be purchased with 15% off the price. For example, the innovative Malfunction and Drift effect plugins are available for as low as $16 each.
Product bundles can be purchased with 25% off the price. The full collection with 13 Sinevibes plugins can now be had for just $126 (instead of $169), which means you pay less than $10 per plugin.
The sale ends August 31st, 2013.
In addition, Sinevibes has announced upcoming updates for six of its plugins: Array, Circuit, Diffusion, Torsion, Turbo and Turbulence. All of them will receive completely new user interfaces, as well as new synthesis and processing features. The updates will be free to all current and future owners.
More information: Sinevibes