Sinevibes has announced the release of an update to the Droplet raindrop delay effect for Mac.
The third product of the company's new plugin lineup, Droplet v2 is built on a fresh foundation that delivers many highly-requested features: availability of AU and VST3 formats, user interface size scaling up to 200%, as well as built-in functions for saving, recalling and quickly switching presets.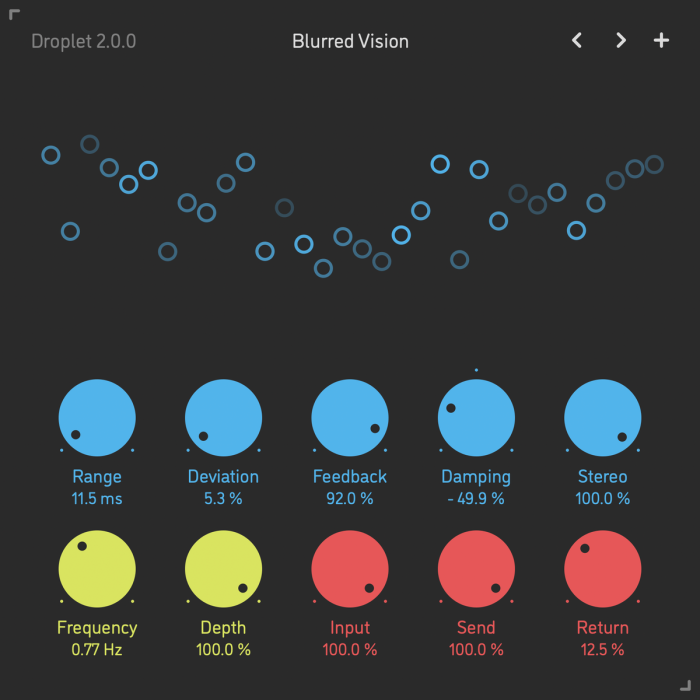 Droplet is a delay modeling engine for creating "raindrop delay" effects. It is based on 32 stereo delay lines connected in series via a proportional feedback system, with each delay's time and stereo pan being randomized in order to produce a natural sound similar to water drops falling onto a surface.
The wide parameter range, as well as low- or high-frequency feedback damping, allow Droplet to produce a huge variety of effects – not just its trademark raindrop delay but also lush reverb and resonator simulations.
Changes in Droplet v2
Newly designed user interface with size scaling up to 200%.
Added VST3 plugin format.
Added built-in preset manager.
Increased number of delay taps from 24 to 32.
Increased delay time range in both directions: from 20-80 ms to 5-200 ms.
Added control for delay time modulation frequency.
Support for any host buffer size.
More natural parameter mapping on Input, Send and Return controls.
Added all-new presets + reworked collection of all old presets.
The plugin is available in 64-bit AU and VST3 formats for macOS 10.9 or later.
Droplet v2 is immediately available for $29 USD. It is a free update for customers who already own the previous version of Droplet.