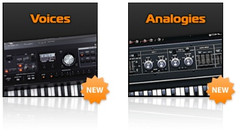 Sinevibes has introduced Voices and Analogies, two new sound expansions for Roland's Fantom-G series workstations.
Both new libraries are based on totally new multisampled instruments developed at Sinevibes, which means they radically change how the Fantom-G sounds.
Voices brings a wide collection of vocal, choir and vocoder sounds, including 330 original samples, 30 multisampled instruments and 50 patches. It will appeal to musicians working with urban and club music, as well as pop, gospel and ambient styles, and film scoring.
Analogies includes genuine, ultra-fat analog synth and bass sounds: 280 original samples, 20 multisampled instruments, 40 patches.
Voices is available now as a download for $29 USD. Analogies is available for pre-order for $29, will be released by the end of February 2009. Also, you can get these expansions as part of one of the new bundles which offer discounts of up to 40%:
Fantom-G Pack ($59): Includes Atmospheres, Bass and Synth: 300 patches.
Fantom-G Super Pack ($99): Atmospheres, Bass, Synth, Organics and Voices: 980 samples, 90
multisampled instruments, 450 patches.
Fantom-G Mega Pack ($139): Atmospheres, Bass, Synth, Drums, Organics, Voices and pre-order for
Analogies: ~1670 samples, 110 multisampled instruments, 510 patches, 40 rhythm kits. Requires min. 256 MB sample memory expansion.
Visit Sinevibes for more information, sound lists and audio demos.