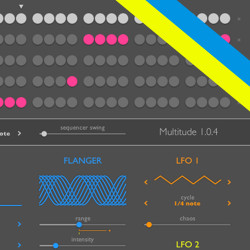 Sinevibes has announced a sale for its Multitude quad delay Audio Unit plug-in for Mac (AU).
A conventional delay constantly processes and echoes all of the audio on the input. Multitude uses gate sequencers to control sends into four individual delay lines – allowing you to activate them at precise moments in time, such as only on particular notes, chords, or hits.

Multitude is available as an Audio Unit plug-in and comes in 32/64 bit format for Intel Macs running OS X 10.6 or later.
Multitude features
Four independent delay units with forward and reverse playback modes.
Five gate sequencer tracks for dry input signal and four delay sends, eight separate sequences storable per preset.
Eight simultaneous effect processors per delay unit: frequency shifter, sample rate and bit depth reducers, circuit bender, noise, multi-mode filter, saturation, and flanger. Effects can be placed before, after, or inside each delay's feedback loop.
Two separate low-frequency oscillators per delay unit, each with 16 modulation destinations, multiple waveforms, and adjustable chaos feature.
Until 15th March, the plug-in is available for a special price of $39 USD (regular $59 USD). 100% of the revenue from this sale will be donated to the victims of the democratic revolution in Ukraine, to support the recovery of wounded activists and protesters, and to support the wives and children of those who lost their lives.
More information: Sinevibes /