Sinevibes has announced the release of its all-new granular cloud reverb.
Albedo is the first of an entirely new lineup of plugins from Sinevibes, built on a fresh foundation that delivers many highly-requested features: availability of AU and VST3 formats, user interface size scaling up to 200%, as well as built-in functions for saving, recalling and quickly switching presets.
Albedo constantly records incoming audio into a buffer, and at the same time runs up to 64 individual looping playheads – called grains – scattered within this buffer. All grains have their own random size and position, and as they are overlaid together, a lush "cloud of sound" effect is produced. Thanks to dual envelope generators per grain, playback speed has continuous adjustment with perfectly smooth transitions between forward and reverse directions – enabling live audio manipulation much like on a tape machine or a turntable, including a fully stopped state.

With multiple detailed controls, Albedo is capable of a vast variety of other effects, too: from melting pitch shifts and chaotic reversed delays, to chorus atmospheres and dark grimy dissonance. Albedo can also "freeze" its buffer and keep playing the granular cloud eternally, allowing you to layer the original input signal on top – and making this plugin a great performance tool.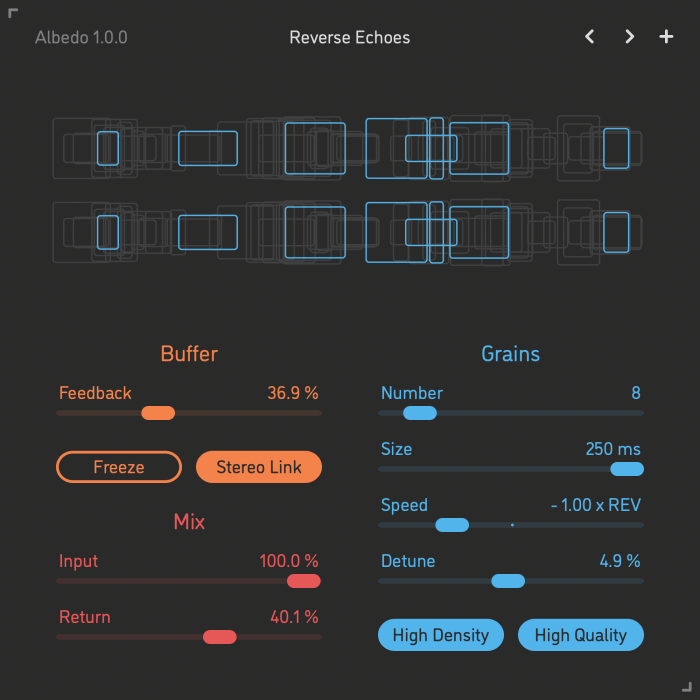 Albedo features
Real-time circular recording buffer with freeze and stereo link functions.
Granular playback engine with up to 64 grains, variable size, bi-directional speed, and detune.
Seamless transitions between forward and reverse grain playback.
Low quality vintage and high quality modern interpolation options.
Color-coded graphic elements.
Built-in preset management functions.
Supports window size scaling up to 200%.
The plugin is available for macOS 10.9 or later as a AU and VST3 effect, priced $39 USD. Existing Sinevibes customers are eligible for special upgrade pricing.
More information: Sinevibes