Sinevibes has announced the availability of three new effects for Korg plugin-capable synthesizers: Blend multi-voice chorus, Dispersion bouncing ball delay, and Finite granular pitch shifter.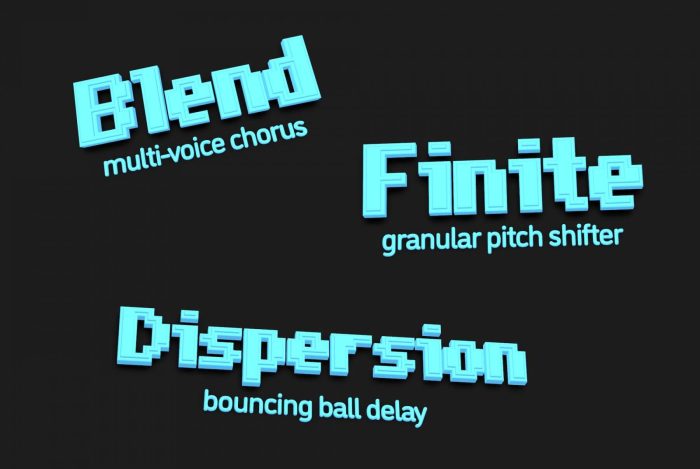 These new products add to the existing 11 highly innovative effects in the Sinevibes KORG FX collection and make it possible to integrate truly unprecedented sonic flexibility within just a single piece of gear.
Blend is comprised of three fully independent chorus layers, each modulated by its own parabolically-shaped oscillator.
Due to relative modulation phase offsets between the three oscillators, this algorithm creates lush unison and ensemble effects with great density and natural smoothness. Thanks to its wide parameter range, it is also capable of producing highly dissonant sounds.
Dispersion runs up to 10 delay taps sequentially, with their times spread according to a unique non-linear formula. This produces a series of sound repetitions much like bounces of a ball that has been dropped onto a surface.
Each round of bounces is calculated to fit within a particular tempo fraction, making this a rhythmically precise and musically rich effect.
The algorithm comes in two versions: with natural time spread (+), as well as inverted spread (-).
Finite uses real-time buffer recording and dual variable playback heads to speed the incoming audio up or slow it down, changing its pitch.
This algorithm features high-quality spline interpolation for ultra-smooth pitch adjustment within the range of two octaves. Its built-in feedback line also applies the pitch shift recursively – enabling creation of truly ethereal, spacey sounds.
The effects are available for $19 USD each. The KORG FX bundle that includes all 14 current Korg effect plugins by Sinevibes is also available for $159 USD (40% off total price). Existing Sinevibes customers are eligible for special upgrade pricing.
The effects are compatible with the Korg prologue 16, prologue 8, minilogue xd, minilogue xd module, and Nu:Tekt NTS-1.
More information: Sinevibes