Sinevibes has announced the release of Blend v2, a multi-voice chorus effect plugin.
The update to Blend is the second product of the company's new plugin lineup, built on a fresh foundation that delivers many highly-requested features: availability of AU and VST3 formats, user interface size scaling up to 200%, as well as built-in functions for saving, recalling and quickly switching presets.
Blend is comprised of up to 16 separate chorus layers. Each of them actually is a chorus effect on its own – complete with a dedicated modulation generator and a feedback loop. Even with all 16 layers activated, the resulting mix is dense yet always silky smooth and musical – thanks to clever proportional modulation phase offsets. Blend also has three different interpolation algorithms, each giving it a slightly different sound character.

And as much as it excels at creating delicious chorus and ensemble effects of many, many styles, Blend's unusual flexibility allows it to easily go into much further territory, so effects like vibrato, tape wow, flanger, smear, dissonance, even reverb – are just a few tweaks away.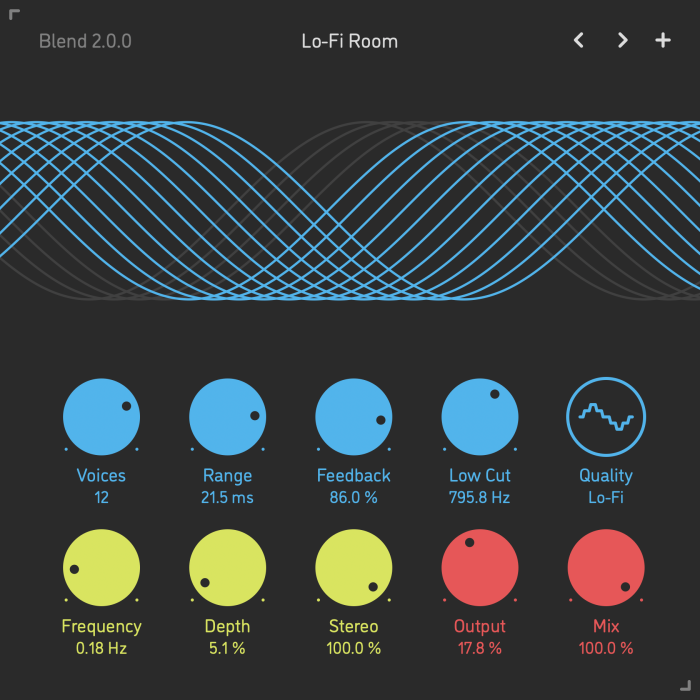 Blend v2 features
16 chorus layers, each with its own individual feedback line.
16 sine wave modulation generators with proportional phase offsets.
Variable modulation stereo width.
Selectable interpolation algorithm: Lo-Fi, Vintage, and Modern.
Adjustable low-frequency cut filter.
Lag filters on all continuous parameters for smooth, click-free adjustment.
Supports mono › mono, mono › stereo, and stereo › stereo channel configurations.
Color-coded graphic elements.
Consistent name, mapping, value, and unit implemented for all parameters in both graphic user interface and host control/automation.
Built-in preset management functions.
Supports window size scaling up to 200%.
Blend v2 comes in AU or VST3 effect plugin formats (64-bit), priced $29 USD. It is a free update for customers who already own the previous version of Blend.
More information: Sinevibes