Sinevibes has announced the release of Flow II, an all-new effect plugin for creating animated flanger and phaser effects.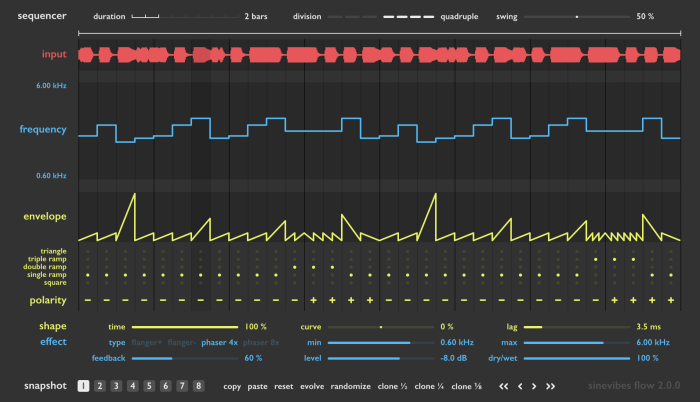 Unlike a traditional flanger or phaser, Flow has a powerful 
tempo-synchronized sequencer that allows to set different effect frequency, envelope shape and modulation depth per each of its 32 steps. Although it can do classic sweeps and burbles too, it goes much beyond – stepped patterns, complex riffs, elaborate pulsations, random glitches are mere seconds away thanks to Flow's simple editing tools and numerous utility functions. Both its rhythmic and spectral character is also widely tunable with multiple open parameters for the effect and the envelope sequencer.

Flow displays a live sound waveform and aligns its sequencer graphics with it – exactly in the same way it's done by the sound engine, for true "what you see is what you get" operation. Every element in its user interface is color-coded and features subtle animations, making your workflow unusually easy and enjoyable. Plus, all this goodness is rendered right on the graphics adapter meaning fast response and no extra load on the main processor, regardless of how new or old your Mac is.
Changes in Flow II
Redesigned user interface with improved contrast, new color scheme and more legible fonts.
All-new, much more efficient DSP algorithms for step sequencer, multi-envelope generator, parameter slew and modulation lag.
Added live input waveform display visually aligned with the envelope sequence.
Added 4- and 8-stage feedback phaser effect options.
Added new controls for min/max modulation range and effect output level.
Added new "triple ramp" envelope shape.
Added envelope curve control (logarithmic to linear to exponential).
Added utility functions to "evolve" the sequence or time-shift the sequence by +/- one step or one beat.
Added shift-click and drag to relatively adjust all steps, control-click and drag to snap steps to 10 fixed values.
Added support for mono-to-stereo channel configuration.
Waveform analysis is only performed when the user interface is open.
Flow II for Mac (AU) is available for $29 USD. Existing owners of Flow can get Flow II as a free upgrade, and both versions can be installed at the same time.