Sinevibes has announced the release of the Inertia envelope sequencer and Cluster animated filter effect plug-ins for Mac. They replace the earlier Dynamo and Deep plugins, providing sleek new user interface graphics, plus multiple new features and enhancements.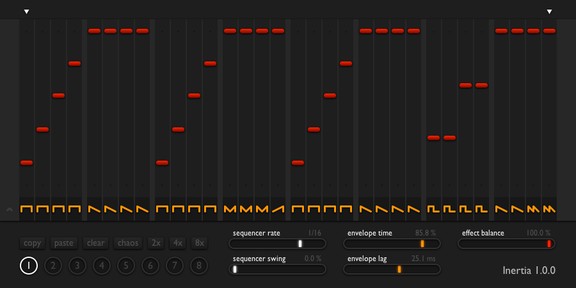 Inertia allows to add rhythmic motion to any instrument, slice, accent and shuffle drum loops, and bring life into static sounds.
Inertia runs a sequence of up to 32 envelopes, each with one of 8 different shapes. Thanks to adjustable speed, swing, time and lag, it takes no time to go from a simple tremolo pattern to really elaborate rhythmical modulation. Plus, you can store 8 separate sequences per each preset – for switching live or track automation.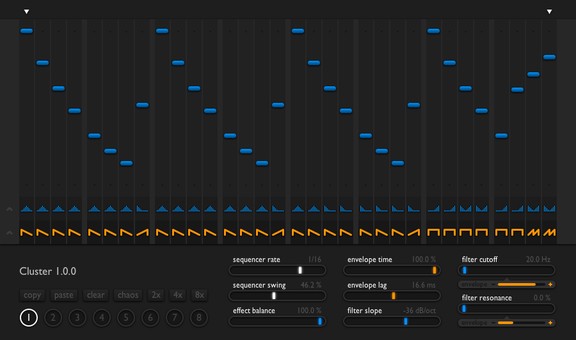 Cluster lets you apply intricate spectral transformations, re-engineer drum and percussion loops, and create colourful motion textures virtually out of anything.
This effect is smoothly cycling through a filter matrix with up to 32 steps, which includes low-pass, high-pass, band-pass and band-reject modes per each step. The filter slope is adjustable from soft -12 to extra-steep -48 dB/octave. Each sequencer step allows to select one of 8 envelope shapes for modulating the filter cutoff and resonance. Parameters such as speed, swing, time and lag are widely adjustable to precisely recreate the rhythmical feel you're after. Just like with Inertia, eight separate sequences are stored in each preset.
Inertia and Cluster for Mac (AU) are available to purchase for $29 USD each.
More information: Sinevibes