Sinevibes has announced the release of Sequential for iPad, its first iOS app.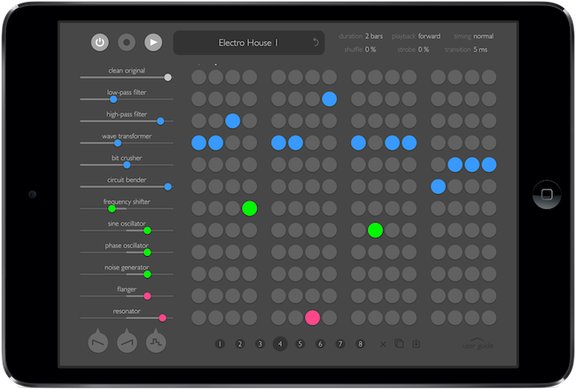 Combining an audio player with a multi-effect sequencer, Sequential lets you instantly reshape any loop beyond imaginable, create amazing breaks, fills and transitions, and turn even the simplest sounds into unique animated textures.
Sequential for iPad features
Powerful effects. Sequential lets you load audio samples for looped playback and apply up to 11 different effects in a rhythmical fashion. It includes many classic algorithms such as low- and high-pass filters, flanger, resonator, bit crusher, but goes much further with Sinevibes' trademark wave transformer, circuit bender and even synthesizers controlled by the sound's dynamics.
Fun workflow. Creating effect patterns with Sequential is more gameplay than workflow. With its bold shapes, clever color coding and all-round use of animations, it feels alive and almost connected straight to your brain. All parameters you change are saved along the audio files and recalled without you even noticing — everything just works the way you think it should.
Instant recording. Whatever you hear coming out of Sequential can be recorded, even if you activate recording as you play. Moreover, all recordings are trimmed precisely to a bar, meaning you will always get audio that loops rhythmically.
Diverse content. Sequential comes with a tasty selection of bass and rhythm loops in a wide variety of music styles, including house, drum'n'bass, r'n'b, dubstep, trap, hardstyle, electro, and more.
Easy sharing. You can import your own loops and export recordings both via the audio pasteboard and iTunes file sharing. Sequential supports .wav and .aiff files in 16 bit 44.1 KHz format.
Sequential for iPad is available to purchase for $4.99 USD.
More information: Sinevibes / Sequential for iPad