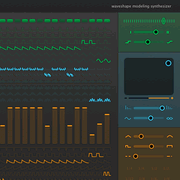 Sinevibes has updated its Diffusion waveshape modeling synthesizer plug-in for Mac, adding new sounds and lowering its price for two weeks.
Sinevibes is pleased to announce an update for Diffusion, an AudioUnit synthesizer plugin for creating unique basslines and motion sounds. New version 1.1.1 adds 20 interesting patches to its sound library, bringing the total to 100.

Diffusion's engine combines additive oscillators and waveshape modeling with an advanced matrix sequencer that allows for over 400 different parameter combinations per step. All this is controlled via an intuitive color-coded interface, making Diffusion a one-of-a-kind instrument that's both deeply capable and fun.
Diffusion for Mac (AU) is available to purchase for $19 USD until 8 March, 2012 (50% off regular $39 USD). The discount can be applied at the Sinevibes online store using this coupon code: SINE-YHKV-DIFF. The update is free to all existing users.