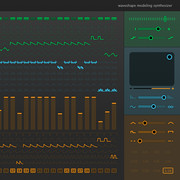 Sinevibes has updated Diffusion, a synthesizer plugin for creating unique basslines and motion sounds.
Its engine combines additive oscillators and waveshape modeling with an advanced matrix sequencer that allows for over 400 different parameter combinations per step. All this is controlled via an intuitive color-coded interface, making Diffusion a one-of-a-kind instrument that's both deeply capable and fun.
Changes in Diffusion v1.1
New design for sliders, labels, selectors and step markers.
Enhanced color contrast.
Full-height running sequence position mark.
Top bar indicating plugin title and version.
New "harmonics" slider adjusts the amount of harmonics in oscillator output before it inters the waveshaper model.
New "stereo width" slider adjusts the waveshape difference in left and right channel (widens the stereo image).
15 new preset patches (for a total of 80).
Improved user manual.
Diffusion for Mac (AU) is now priced $39 USD (previously $59 USD).
Moreover, due to extreme popularity of holiday discounts at Sinevibes online store, prices lowered by 20 to 40% will remain for the entire year. For example, the Sequential multi-effect is now only $29 (down from $49) and the complete collection of Sinevibes AudioUnit plugins is available for $119 (used to be $179).