Sinevibes has announced that it has updated its Fraction audio slicing workstation AU plugin for Mac.
Version 1.3.1 adds a host of important improvements.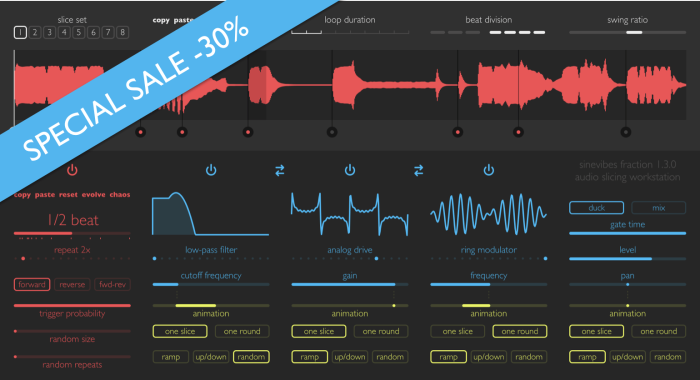 Fraction is an effect plugin for deep real-time manipulation and re-engineering of sound. It features 8 slicers which record and repeat small portions of the input audio at defined points in time, slightly or radically changing the rhythmical arrangement.

Each slice has three dedicated effect processors with a wide range of algorithms, and their parameters can be animated in perfect sync with the slice repeater. Rolls, stutters, fills, breaks and transitions can be done with unprecedented ease – but Fraction has enough power to create whole musical pieces out of almost anything.
Changes in Fraction v1.3.1
Lowest sequencer duration is now 1 bar, giving 2x greater slice placement resolution.
Improved performance in the main slice repeater DSP algorithm.
All slice repeaters are now cleared when host transport is restarted.
Enhanced sound quality in pitch shifter DSP algorithm.
Added 15 new factory presets.
Fraction is available from Plugin Boutique at 30% off until May 20th, 2017.