Sinevibes has released version 1.3.0 of Fraction, an audio slicing workstation AU plugin for Mac.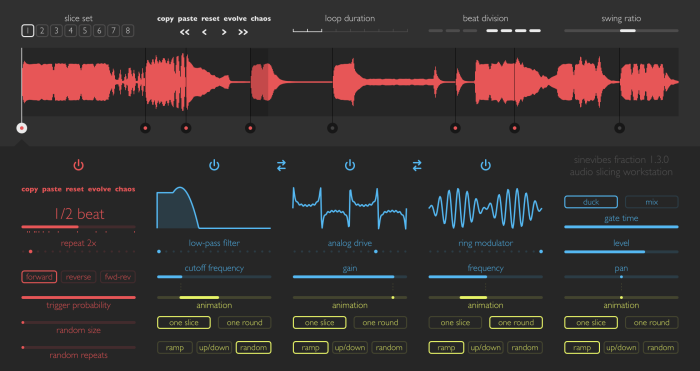 The new version features a big number of enhancements, including a redesigned user interface, reduced processor load, new presets, an all-new user manual – and more.
Changes in Fraction v1.3.0
Added new ring modulator effect algorithm.
Vastly optimized idle processing efficiency (up to 4x less load).
New, more efficient parameter smoothing algorithm.
Multiple minor user interface enhancements, including smoother lines, increased contrast and better visual grouping of related control elements.
New, visually lighter and more legible selector design.
Increased size of live waveform display.
Added "evolve" functions for gradual randomization.
Added new command-click and force-click shortcuts.
Added support for two-finger trackpad swipe to switch slice sets.
Fixed paste function pasting when copy buffer is empty.
Fixed inconsistencies between user interface and parameter interface titles.
Added new factory presets.
Completely new user manual.
Fraction for Mac is available for purchase for $55 USD until January 10th, 2017 as part of Sinevibes' Holiday Sale (20% off regular). The update is free to all existing owners.