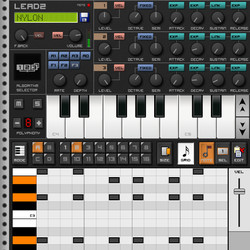 Single Cell Software has updated its Caustic music app for iOS and Android to version 3.0.1.
Caustic 3 is a music creation tool inspired by rack-mount synthesizers / samplers rigs.
Everything is real-time and optimized for mobile devices.
Changes in Caustic v3.0.1
Support for more .instr file formats.
Fix for loading ZIP instrument format.
Fixed occasional crash bug when deleting patterns.
[iOS] Fix for audio coming out of phone receiver instead of speaker on iPhone.
[iOS] Fix for Caustic's audio cutting out when returning from other apps.
[iOS] Fix for stuck MIDI notes.
[iOS] Fix for missing .MID import.
[iOS] SoundFont import tweaks.
[iOS] Added advanced option to fill screen in landscape on iPad.
[Android] Allow .MID file import in demo.
[Android] Disable mic on certain Tegra devices.
[Android] Improved MIDI device detection.
Caustic for iOS and Android is available to purchase for $9.99 USD.
More information: Single Cell Software / Caustic