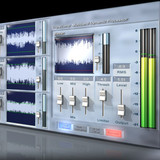 Sinus has announced an update for TripleComp, a three band compressor effect plug-in for Windows.
A TripleComp 64 bit version is available now. It can be directly used in native 64 bit VST hosts like Cubase 5.5 x64.
TripleComp features
Three band compression.
Look ahead processing.
No pumping or coloration.
Automatic attack and release time calculation.
Attack enhancement.
Brickwall limiter.
Automatic normalisation.
32 bit internal precision.
16 bit dithering.
Sample rates up to 96 kHz supported.
Automatic latency compensation supported.
Full parameter automation.
RMS display.
Sinus Wave Display Interface (SWDI).
Intuitive handling.
TrimpleComp is available to purchase as a VST effect plug-in for Windows PC, priced at $45 USD.
More information: Sinus