SIR Audio Tools has released StandardEQ, a new equalizer effect plug-in for Windows and Mac.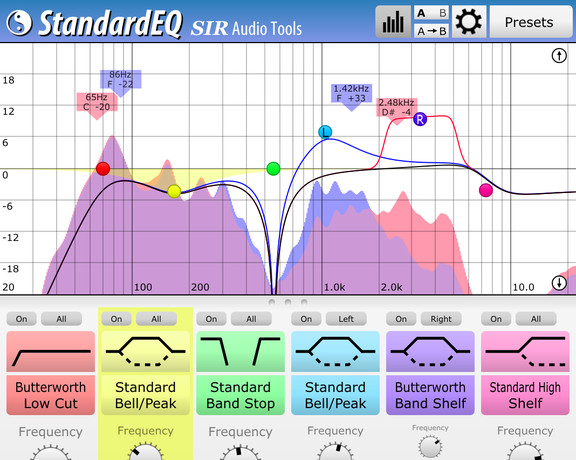 StandardEQ is a minimal phase equalizer. StandardEQ offers various filter-characteristics with freely adjustable parameters. All main parameters can be used with automation. StandardEQ offers internal oversampling for a nice high-end response. Up to 50 filters are possible, the interface is resizable and has different zoom-options. StandardEQ has an integrated multi-channel spectrum-analyzer, and an intelligent frequency-peak detection.
StandardEQ features
Intuitive Interface.
High Quality Analyzer & Equalizer.
Intelligent Peak Detection – find resonant frequencies easily.
24 Filter-Types: Butterworth/Legendre/Bessel Filters as high/low-cuts; high/low-shelf filters & Bandpasses.
Every filter can work in left/right/mid/side mode or can process channels individually.
Multi-Channel aware – process and analyze up to 8 channels.
Oversampling for highest precision and symmetric behavior near Nyquist-frequency.
Phase Shift Display.
Up to 50 filters in one plugin instance.
Resize-able And Scale-able Interface, Adjustable Display-Range.
Preset-Manager and A/B compare-switch.
Link gain/Q option, with proportional or inverse behavior.
All main parameters can be used with automation.
Customizable Analyzer, Adjustable Release-Time / Smoothing / FFT-Size / Brightness / Contour.
Adjust parameters directly in the display, use the mouse-wheel to change the Q parameter.
Output Gain Parameter.
StandardEQ for WIndows and Mac (VST/AU) is available for the introductory price of 79 EUR / $99 USD. It is also included in the SIR2 + StandardEQ Bundle for 159 EUR / $199 USD.
More information: SIR Audio Tools / StandardEQ