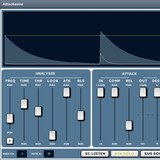 SKnote has released Attackease, a VST effect for Windows PC.
It gets a mono input (i.e. a drum mic track) and separates the incoming audio in two tracks, attack and sustain, with selectable threshold and time constants. Attack and sustain can be processed separately and then re-combined. A limiter for the attack and a compressor for the sustain are included. Really different from a compressor, any external processor can be used to further process attack and sustain.
Attackease features
Analysis, attack, sustain and midi sections.
Automatable threshold (for accurate triggering).
Included attack and sustain separate compressors.
Internal or external sidechain with internal sidechain filter (for a more accurate triggering).
Midi output on trigger (with selectable channel and note number).
Separate outputs for attack and sustain (for further processing).
Attackease is available as a VST effect plug-in for Windows PC for 129 EUR (ex. VAT). A demo version will be available soon.
Visit SKnote for more information and some audio demos.