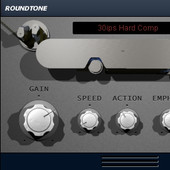 SKnote has released Roundtone, a tape emulation effect plug-in for Windows.
Very light on cpu, it is a mono/stereo effect to add subtle punch and colour to every track or submix/mix.
Roundtone features
Roundtone is a tape emulation software.
It adds typical tape recording interesting side-effects to every audio track.
Useful on single tracks (mono/stereo) and on submixes/mixes.
Very light on CPU and latency-free, adds punch, color and gently compresses the sound.
Includes several algorithms (different tape, saturation curve, color, response). More to came in future free updates.
"Emphasis" control adds color while preserving the high frequencies.
Includes an optional 2nd stage of saturation (head).
Roundtone for Windows (VST) is available to purchase for the introductory price of $9.99 USD.