After a successful two-month public beta, Skoove has announced the launch of its music learning platform offering the world's first interactive piano lessons.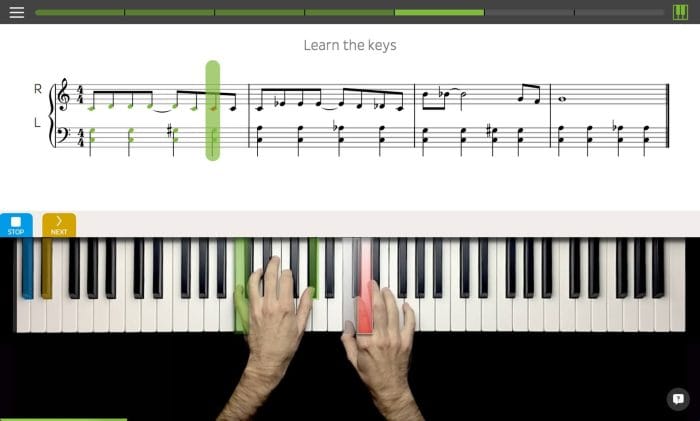 Skoove has developed a fun and effective, always-on platform for learning one of the world's most popular instruments; the piano. Skoove works by connecting a keyboard or e-piano to a computer, delivering expertly designed lessons via most popular web browsers. The app gives beginner and refresher pianists real-time feedback, listening and adapting to their pace as they progress.

Microsoft Ventures Accelerator graduate Skoove offers an extended course curriculum developed and curated by Dominik Schirmer, former lecturer at the prestigious Liverpool Institute for Performing Arts. Skoove's courses incorporate popular music favorites and also games to teach music theory and note reading. Skoove's distinctive "Listen Learn Play" technique breaks down popular songs into easily digestible parts. Targeted at users aged 12 and upwards, motivated Skoove students can play their first melody in just a few minutes.

"Learning to play the piano is a skill many people aspire to have but, as studies show, rarely find the time or support to learn effectively. Skoove is disrupting the music learning market by combining the best elements of a live tutor with the ease and convenience of a web browser," commented Dr Florian Plenge, Skoove cofounder and CEO. "The launch of our new, extended courses means we can now help as many people as possible to discover the piano."

Users sign up through the official homepage, and can then access their unique profiles, which store their course progress, via the app. Skoove Premium is priced at £6.95 per month in the UK, €9.95 in Europe, and $9.95 + VAT in the USA, and gives users full access to all courses, while adding new lessons every month. Skoove Basic, the free tier, allows users to sample a few lessons in each course. Lessons are available in English and German.

Skoove was cofounded in August 2014 by two highly successful music technology entrepreneurs. During his 10 years at Native Instruments, Dr Florian Plenge (CEO) grew the Traktor product line to become the world's leading DJ platform with millions of users. Stephan Schulz (COO) previously founded the premium multi-room wireless hifi system maker Raumfeld (recently acquired by HG Capital/Teufel).
Skoove's full program of lessons is now available for monthly subscription at £6.95 GBP for Skoove Premium.
More information: Skoove