SKYLIFE has announced the release of a comprehensive update for SampleRobot Multi-X, the automatic sampling software.
Version 5 offers compatibility with the latest Mac OS El Capitan and Windows 10.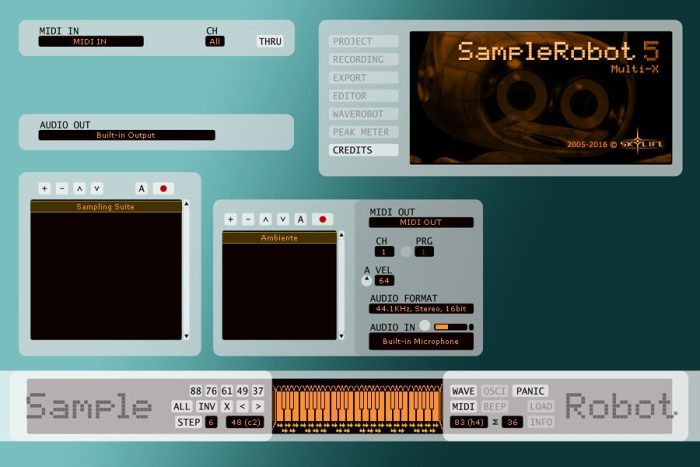 SampleRobot 5 Multi-X is a reasonably-priced version in the SampleRobot product lineup. It contains the latest auto-sampling algorithms and comes with a bunch of new sample export formats.

Multi-X stands for multi export and offers all multi-sample export formats from its big brother SampleRobot 5 Pro.

The loop and transient editor WaveRobot can be fully integrated as an option.
Changes in SampleRobot 5 Multi-X
Multisample export for Korg Volca Sample.
Dump up to 100 samples at once to Volca Sample.
Support for multiple bit and sampling resolutions.
Automatic high quality resampling for Volca Sample.
Save sample banks as Projects.
Sample bank function: Erase.
Sample bank function: Restore factory samples.
Flexible stereo-mono rendering.
Different loop export modes.
Multisample bank export for Korg microSAMPLER.
KMP/KSC/KSF multisample export for many Korg products from Trinity to Triton to Kronos.
Drum sample export for Teenage Engineering's OP-1.
Import and export of multiple WAV and AIFF files.
Export Project for sharing and backup purposes.
WaveRobot 5 loop and transient editor as an option (supersize sample window for resolutions up to 3200 x 2000 pixels).
Automapping of imported wave files including various loop and mapping options under OS X.
Projects with up to 128 velocity layers.
Improved Mac OS X framework, compatible with OS 10.11 El Capitan.

Adaption for Windows 10.
New graphical user interface.
New premium multisamples on bord.
Many performance optimizations.
Includes 4 cross-platform installation licenses.
SampleRobot 5 Multi-X is available for purchase for $129 USD / 99 EUR / £85 GBP. SampleRobot 5 Multi-X + WaveRobot is $199 USD / 149 EUR / £129 GBP.
More information: SampleRobot