SKYLIFE has announced the release of SampleRobot Korg+Wave, a new addition to the SampleRobot product line-up that is not only for Korg users.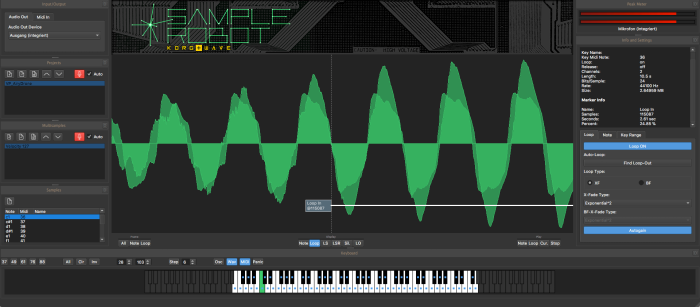 SampleRobot Korg+Wave is an entry ticket to the world of automatic sampling. The application is designed to speed up and simplify complex audio sampling procedures and loop finding, audio editing and multisample mapping.
It can clone instrumental sounds automatically via Midi or semi-automatically one after another for acoustic and non-Midi instruments. Beginners can achieve excellent results with just a few clicks.
SampleRobot Korg+Wave offers multisample exports for various Korg products including volca sample, microSAMPLER, Kronos and Pa4X. But it's not only for Korg users. Offering export as standard wave files as well SampleRobot Korg+Wave enriches any kind of music production and studio facility.
SampleRobot Korg+Wave comes with the sophisticated WaveRobot wave and transient editor / batch processor already included at the same price as the former single WaveRobot was. So now you get all the advanced sampling features as a bonus.
New features of SampleRobot 6 Korg+Wave
Modular graphical user interface.
Integrated central WaveRobot loop and transient editor.
Native MacOS and Windows 10 support.
Floating Peak Meter.
Context-sensitive project hierarchy.
Sample list for easy browsing and searching.
Optimized activation process.
SampleRobot 6 Korg+Wave for Windows and Mac is now available for 79 EUR / $99 USD. The upgrade from previous SampleRobot Korg Edition / Single-X / WaveRobot versions is 39 EUR / $49 USD.
More information: SampleRobot