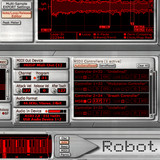 SKYLIFE has released version 3.0.8 of SampleRobot and WaveRobot, two audio sampling software solutions for musicians and sound designers.
New features include the support of waveformat extensible, optimized ASIO integration (V2.2), revised export modules and many improvements in detail.
Changes in SampleRobot / WaveRobot v3.0.8
Waveformat extensible support — It is now possible to drag&drop audio files in waveformat extensible into SampleRobot and WaveRobot. Loop markers, sample names and root keys (embedded or from file name) are recognized during import.
Updated ASIO integration — SampleRobot and WaveRobot now support the ASIO V2.2 standard which improves the communication with some audio interfaces. Furthermore the stability was optimized when using several audio interfaces with different ASIO drivers on one system.
Optimized Export — In SampleRobot and SampleRobot Essentials you can now export projects that are not fully recorded. This makes testing of multisamples in a software sampler environment a lot easier.
New driver cleanup services — When closing and opening different audio drivers shortly after another, under special circumstances this could affect the audio performance of some interfaces. Due to the new cleanup services those issues do not occur any longer. Furthermore a special cleanup log is written to hard disc offering debugging options in the future.
Save Preferences to Disk — Now you can save all settings manually to disk including MIDI and Audio setup, multisample setup and GUI/Zoom settings.
MIDI Monitor filter — Realtime MIDI messages (like "timing clock") are filtered automatically in the MIDI monitor so that other messages can easily be identified.
Updated program activation dialog — Since the SKYLIFE server has moved to another location is was necessary to adapt all dedicated internet links for program activation.
Default Autoload samples into Note/Loop/Release-Editor and WaveRobot — This important function to see the waveforms of all samples in a multisample just by rolling with the mouse pointer over the dedicated keys is now activated by default. Furthermore, at the same time, all dedicated sample information like length and loop behavior is displayed in an overlay window. For each key-sample individual zoom settings are stored.
Demo versions — Several new graphical screens and also new Internet links have been included in all demo versions. Furthermore, all restrictions of the demo versions are displayed during program start.
General improvements of the graphical user interface
SampleRobot and WaveRobot for Windows PC are available at a 20% discount until the end of 2009.
More information: SampleRobot