At the recent Superbooth 2019, Skylife has introduced an update to its SampleRobot Pro, Multi-X, Korg+Wave and SampleRobot Montage.
Version 6.2 offers advanced VST2 plugin sampling, a new input/output panel, wave and aiff drag&drop functionality, extended semi-automatic recording and many performance optimizations.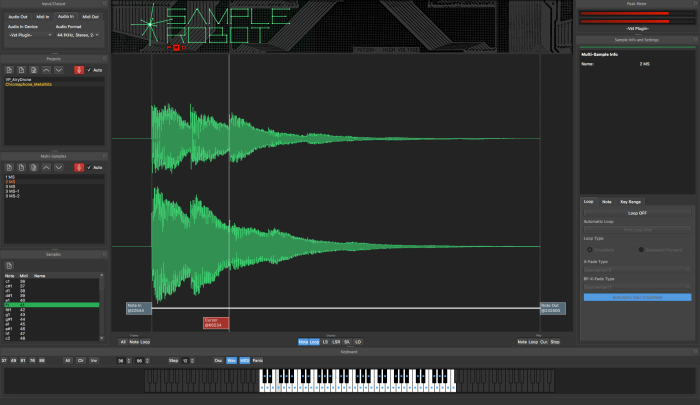 VST2 Host and plugin sampling (SampleRobot Pro only)
The integrated VST2 plugin host is now extensively optimized regarding CPU-performance and VST2 plugin compatibility. It is also seamlessly integrated into the Project Wizard that helps setting up complex sampling projects very easy in a few steps.
Input/Output panel
When sampling with multiple interfaces and different audio and Midi ports it is hard to keep the overview. The new I/O panel is designed to make input and output assignment easy and comprehensible. Once a project is created it can be quickly re-assigned to a new input configuration including all contained multisample layers.
Wave and Aiff file drag&drop
This feature stood high on the SampleRobot users' most wanted wish list.
Now drag&drop is included in version 6.2. One or more wave/aiff files can be dragged to the virtual keyboard in SampleRobot who will then give some import options in return. Root-keys can be detected from the embedded file data or from the filenames to allow automatic mapping along the keyboard. Loop information can be extracted from the files as well. It is possible to combine existing samples to new instruments and to export them as various multisample formats including up- and downsampling and various stereo mapping and loop options.
Extended semi-automatic mode
With now up to 1000 seconds of recording time for each sample in semi-automatic (non-Midi) recording mode you can even sample whole music tracks and longer sound design atmospheres. Building construction kits for film music and sound design that can be performed live to picture was never easier.
Compatibility
SampleRobot 6.2 is fully compatible with Mac OS X Mojave and the latest Windows 10 build. Compared to previous releases the CPU power consumption on Mac could partly be reduced up to 50%.
The new version is now available as a download from the Skylife Store. It is free for all users of SampleRobot 6 and can be downloaded via the in-application updater.
More information: SampleRobot