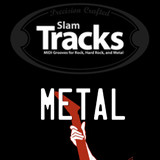 Slam Tracks has announced the release of Metal MIDI Drum Fill Pack 1, a collection of over 650 fast and brutal MIDI drum fill loops for classic and modern metal styles.
The Metal MIDI Fills 1 Pack is not another tired and cliche collection of drum patterns. It's about speed and power: Tom/kick combos, syncopated tom runs, accent patterns, breaks/stops, and more. Your MIDI drum tracks will go to the next level of brutality with this versatile collection of inspiring and deranged metal drum fills. Push your next metal project to the max with the new Slam Tracks Metal MIDI Fills 1 Pack.
Metal MIDI Drum Fill Pack 1 features
650+ royalty free MIDI drum loops for modern and classic metal styles.
Variety of fill types – Intro, stops, breaks, and transition fills.
1, 2, 4 and 8 measure fills.
Straight and triplet-based fill patterns.
Outstanding feel and realism.
All loops recorded and played live – not quantized..
Standard MIDI format – General MIDI for use in: Addictive Drums, BFD, BFD2, Battery, EZdrummer, Superior and Superior 2, and more.
Tempo range: 120- 200 BPM.
Time Signatures: 4/4.
The Metal MIDI Drum Fill Pack 1 library is available now via instant download from Slam Tracks for the introductory price of $9.95 USD (regular $19.95 USD).
More information: Slam Tracks / Metal MIDI Drum Fill Pack 1