Slate Digital has announced some new products at the AES: FG-Stress, Verbsuite Classics, and the D16 Repeater Delay.
FG-Stress is an official emulation of the iconic Empirical Labs Distressor studio compressor.
The Slate Digital DSP team, led by our cofounder Fabrice Gabriel, worked hard to ensure that every single detail of the hardware was perfectly recreated, from the subtle harmonic tones to the precise timing characteristics, and even it's special modes like the Opto mode and Nuke mode.

The FG-Stress, like its hardware counterpart, is capable of an extremely wide variety of tones that will work on all kinds of material.
The Verbsuite Classics is a plugin developed in collaboration with Liquidsonics, featuring 8 industry standard reverb units modeled in a single plugin.
For the first time ever, eight of the most classic digital reverbs from the past forty years can be accessed in one single reverb plugin. and some of these reverbs have never been modeled before.

And speaking of modeling, VerbSuite captures the actual tone of the modeled reverb using LiquidSonics proprietary Fusion IR processing. Unlike static impulses found in typical convolution reverbs, Fusion IR is able to reproduce the evolving character of modulating digital reverbs, making the overall tone rich smooth and dynamic.
Also announced is Repeater, a dual delay effect plugin developed with D16 Group. It features 23 authentically modeled delay units, ranging from classic oil cans and plates to the most famous vintage digital designs.
The Delay is the ultimate creative tool for adding space, depth, and excitement to music. And there have been so many incredible delays created over the past 70 years from tape delays to modern digital.

So when Slate Digital and our friends at D16 got together to create a new delay plugin.. it was obvious which delay we would model. ALL OF THEM.
The plugins will soon be available as part of the Slate Everything Bundle, which is now available at a new price of $14.99 USD/month.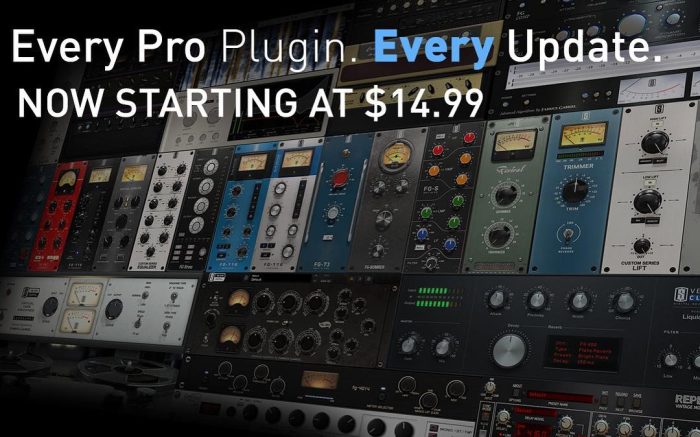 The Slate Everything Bundle gives you every plugin we make, top third party plugins, and every new plugin we come out, all for a super low price. Well, that price just dropped!

You can now get the Everything Bundle annual plan billed monthly at only $14.99!!!!!! 48 cents a day to use all these incredible processors on your mixes!

Current Everything Bundle users- stay tuned for an email explaining how to crossgrade to the new lower prices!
More information: Slate Digital